Paphos, Cyprus » Entertainment » Shopping Centres
Shopping in Paphos has improved greatly over the last decade or so, with many larger supermarkets and shopping centres together with the introduction of well-known high street brands. Do not forget to check out the open-air markets and traditional souvenir shops for some unique gifts at reasonable prices.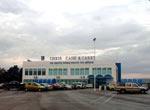 Carrefour ( Visit Site )
The Carrefour group offers a wide range of both food and non-food products. The prices are reasonable and supermarkets are always fully stocked. These recent additions to Paphos shopping centres are two large floors with a good parking facility. Various promotions are always going on at the supermarket on an assortment of goods such as greeting cards, video games, stationery, toys, kitchenware, furnishing, clothes, sportswear and shoes. There is also a cafeteria on the first floor for some snacking. Toilets are well-equipped with baby nappy changing facilities available.
Address: Ellados avenue 52A and Tsaggari 2, Paphos
Tel.: +357 26 912 600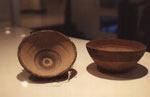 Cyprus Handicraft Centre ( Visit Site )
Handicrafts and pottery is a long-standing tradition of Cyprus and Paphos is no exception. The best example that can be cited is the Cyprus made sword of Alexander the Great. All such beautiful, ancient rare handicrafts can be seen at the Folk Art and Handicraft Centre located all over Cyprus. The main centre is in Lefkosia, but there are also district centres in Lemesos, Larnaka and Paphos (or Pafos) along with shop and experimental workshops. One can get to see products made from precious stones, metal, wood or textiles, silk, wool or cotton whose craftsmanship secrets have been handed over from generation to generation.
Address: 64, Apostolou Pavlou Street, Paphos
Tel.: +357 26 240 243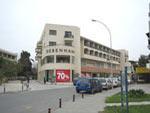 Debenhams Department Store ( Visit Page )
Debenhams department store, which is originally from the UK, has its franchise stores all over Cyprus. In Paphos, the store is divided into three parts. While the ground floor is a supermarket that stores all food and kitchen products, the first floor offers designer clothes, children's wear, books, handcrafted gifts, shoes, a brilliant range of cosmetics, and an in-house optical section. There is also a cafeteria and a bakery that offers some delicious Italian and French cheeses and hams. In the basement, you will find furnishings, electrical goods and small knick-knacks.
Address: 62 Konstantinou Kanari, 8010, Paphos
Tel.: +357 26 947 122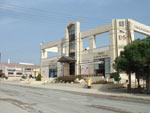 E & S Supermarket ( Visit Site )
All kinds of international products are available at this supermarket. Special mention should be given to products included in butchery, fishmonger, vegetables, fruits, bakery, toys and clothes section. Along with being centrally located, the supermarket also has a cafeteria and ample parking space. It is the busiest and the biggest store in Kato Paphos area.
Address: 52 Apostolou Pavlou, 8046, Kato Paphos, Paphos
Address: 89 Mesogis Av., 8280 Mesogi
Address: Vas. Stasiikou, 8820 Polis

Tel.: +357 26 947 122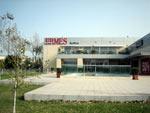 Ermes Department Store ( Visit Site )
Ermes combines a supermarket and a department store, all in one. The supermarket on the ground floor is somewhat small, but you can find all kinds of products like furnishings, electrical goods, decoration items, stationery, toys and computer accessories. On the first floor, there is a cafeteria along with toilets and some designer clothes.
Address: Opposite Pafiako Athletic Stadium, Korivos, 2 Dimokratias, 8028 Paphos, Paphos
Tel.: +357 26 840 840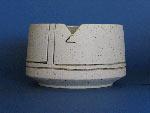 Lemba Pottery Gallery ( Visit Site )
Situated in the small village of Lemba, 5 km away from Paphos, George and Sotiroula Georgiades started Lemba Pottery Gallery in 1998. It can be visited whilst on the way to Coral Bay, which is one of the best sandy beaches of the region. Here, products are of superior quality as they are individually crafted using unique pottery techniques. Pottery is sold in the form of cups, mugs, kitchen jars, water jugs, storage jars, dinner plates, etc.
Address: Eleftherias Street 18, Lemba Village, Paphos 8260
Tel.: +357 26 270 822
Makariou III Avenue
Most small shops are located at the Makariou III Avenue in Kitma. At the north end of the avenue, there is an open market. The shops remain closed during lunchtime on Wednesday and Saturday afternoons.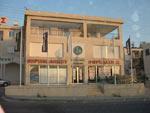 Orphanides Supermarkets ( Visit Site )
There are two Orphanides supermarkets in Paphos. One is situated in Athinon while the other one is in Korai. Orphanides is a big supermarket that has its branches spread all over Cyprus. You will find all kinds of food products like butchery products, fish, fruits, vegetables, bakery products. It is equipped with a cafeteria that serves some delicious snacks. Its central location with plenty of parking space is one of the major reasons why it is popular among locals and visitors.
Address: 30 Republic 8201, Paphos
Tel.: +357 26 817 000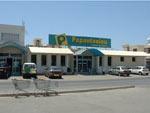 Papantoniou Supermarkets ( Visit Site )
There are two Papantoniou supermarkets stores in Paphos. One is located in Chlorakas, which is the first and biggest one while the other one is on Ellados Avenue. The Chlorakas branch has stocked many international and national products, emphasized by some lucrative discounts, exchange for points and bonus card system's promotions. Their butchery section is famous, with meat products selling out in minutes. Also well-known are the fruit & vegetable section, bakery and delicatessen.
Address: Ellados Avenue 1, 8020, Paphos
Tel.: +357 26 936 600
Address: Arch. Makarios&PapakostaLeonida, 8221, Chlorakas, Paphos
Tel.: +357 26 970 700
Address: 4 Ledra Street, 8041 Kato Paphos, Paphos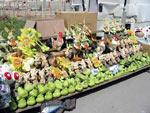 Paphos Market ( Visit Site )
The Paphos Market is located in the old town region of Paphos. It is open every day and is easily accessible as buses travel from all over Paphos to the market. There is a variety of shopping to do ranging from fruits, vegetables, seafood, leather shoes and handbags. There are some taverns and restaurants nearby, where one can rest after a long day of shopping.
Paphos Open Air Market
The Paphos Open Air Market is located at Timi village and is open every Sunday from 7.00 a.m. until 2.00 p.m. Locals come together to sell their products and you will find a lot of local Cypriot knick-knacks and decorative items along with some handicrafts.
Tel.: +357 26 621 974