Paphos Travel Tips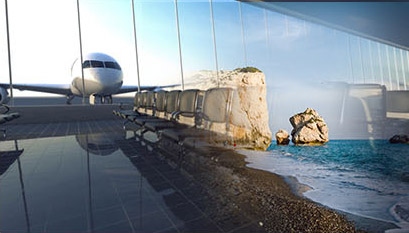 A guide to travelling in and around Paphos
Till recently, Paphos (or Pafos) was the only town in Cyprus, which was traffic-free. Though due to the constant influx of tourists, urbanization and increase in population, things have changed.
Traffic can cause some problems, especially in the town centre where the roads are narrow. However, due to government initiative, new road developments have been put forward to improve the situation.
By Air
The Paphos International Airport is the second largest airport in Cyprus after the one in Larnaca. It is connecting joint for tourists to travel from western Cyrpus to popular destinations like Coral Bay, Limassol and Paphos city. The airport is located 10 km southeast of the city, near Timi. Approximately half a million people utilize the airport every year.
Motorways
Till 2001, Paphos did not have a motorway link. The A6 was constructed which now connects Limassol with Paphos. It is expected that by 2013, the A7 motor link work will be over and be open to travellers.
By Car
Hiring a car during sightseeing in Paphos is the best option as car rental is insured against collision, accidents, and mileage along with excellent services for tourists. 24-hour airport service is available from many car rental companies, and they also offer Cyprus maps, travel tips and additional drivers, sometimes free of charge. Most of the companies have their own websites where you can book your car and make a choice between manual and automatic cars. But there are some requirements that need to be fulfilled to hire a car.
- You need to over 25 years of age
- You need to have a full valid driving licence from your country of origin
- An international driving licence will also suffice.
- Driving is on the left-hand side
- Seat belts are compulsory
- Children under five are not allowed to travel in front of a car
- It is also prohibited to use a mobile phone whilst driving
By Taxi
Taxis are also very popular while getting around in Paphos. There are two types of taxi services: service taxis and private taxis. With service taxis, they have to be shared with other unknown travellers, which can be unsafe. Private taxis are preferable as you will be travelling alone or with friends and family.

Public Transport
Travelling in and around Paphos using Public transport can turn out to be inexpensive and convenient.
By Bus
For reaching to Paphos, The KEMEK bus lines are well connected with all the island's main centres (Limassol, Larnaca and Nicosia).
Travelling using buses in Paphos may be cheap, but requires patience. The buses do not run on a regular timetable, and also they run on only certain roads and visitors who want to visit some out of the way, interesting places, the bus may not turn out to be right kind of transport means for them. Bus tickets are cheap and have to buy only you have boarded the bus. Buses are of two kinds: Urban buses and Rural Buses. Urban buses connect locations across the cities while Rural buses join small villages to the nearby towns.
By Sea
Regular shipping lines do not dock at Paphos harbour as they dock at Limassol. Paphos is just 1 hour by road from Limassol.
Bicycles
Moving through Paphos using bicycles is a good option as its cheap, and you can enjoy the sights in your own time. Also, most of the spots are close by, so hiring a bus or car may not be necessary.
By Foot
As Paphos is a small town, navigating by foot is a good way of discovering the city and its countryside. It is inexpensive and at the same time, a good form of exercise. Also, you can explore the various sights and gather information about them at your own pace and time, and it can be quite fun if you are in a group.
Sometimes travelling by foot can be very time consuming, especially if you are in Paphos only for a few days and you want to explore the majority of the city.
Recommended Activities