Paphos, Cyprus » Entertainment » Nightlife
Paphos in recent years has developed a lively nightlife, you can find several bars, cafes, clubs and pubs scattered across the sea front and city centre.
Bars & Cafés
Casa Café
Situated in an old house renovated along modern, minimalist lines, this café, bar and restaurant is a perfect place to visit. Drop by for drinks or a light meal, accompanied by a soundtrack of laid-back lounge music.
Address: Apriliou 1 12, Ktima Paphos
Tel.: +357 99 673 961
Different
One of the better venues among Paphos's less than inspired drinking options, 'Different', so is named, it welcomes a gay as well as straight clientele. In summer it is perfect for people-watching as tables are set out on the pedestrian walkway. Great bar service and reasonably priced drinks add to the appeal.
Address: 6-7 Agias Napas, Kato Paphos
Tel.: +357 26 934 668
Namaste Live Music Bar ( Visit Page )
The general feeling of audience so far is that Namaste have got it just right. Along with international performers and local acts, a weekly open mike and jamming night ensures that everyone can be a part of the Namaste experience. All you need to do is bring your instrument and join in.
Otto Diece Music Bar ( Visit Page )
Situated in the heart of the old town of Paphos, Otto Diece Music Bar has cornered the local market for people interested in something different. Found down an alley way, the building which used to be a taverna has been thoughtfully modernised keeping intact the appearance of the building which is full of character.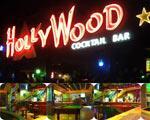 Hollywood Cocktail Bar
A live DJ entertains you all night as you dance till the wee hours of the morning. Along with offering an experience of dancing, the bar also serves as the best place to just chill out and enjoy a simple drink. If you are one of the adventurous ones, then do try their house cocktails for sure at their four spacious cocktail bars. Each night has a different theme like Hen night, Stag night with drinks and beer in plenty. A pool table will keep you entertained and some amazing discounts on the drinks will surely surprise you.
Address: 25 Ayiou Antoniou (Bar Street), Kato Paphos, Paphos District
Tel.: +357 96 507 832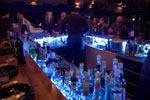 Notos Café Bar
Since it looks over the panoramic view of the Kato Paphos Harbour, the Notos Music Bar is the ideal place to enjoy cocktails, listen to soothing sound of the waves of the Mediterranean Sea. Various types of drinks are offered along with light snacks, meals till 11 p.m. in the night after which it transforms itself from a café into a club. This place is also known to host live bands. So, at least one visit is a must.
Address: Kato Paphos, Harbour Area, Paphos District
Tel.: +357 26 939 616
Harry O's
Harry O's is one of most popular bars and a must-visit while in Paphos (or Pafos). Air conditioning during the summers and central heating in the winters is made available in the cafe. Special arrangements like ramps and toilets have been made available for disabled people. The bar features 2 large screens and 3 televisions to view major sport events and a pool table to keep you entertained. The place offers a mix of exotic cocktails and mixed drinks.
Address: Agiou Antoniou Street, Kato Paphos, Paphos District
Tel.: +357 26 811 150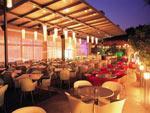 Lighthouse Beach Bar
The Lighthouse Beach Bar is located along the shores of Lighthouse Beach in Paphos. It is within easy reach no matter what your mode of travel is. As the bar is located in the serene atmosphere of the beach, away from the busy city life of Paphos, it is the best place to relax and chill out. Relish the sandwiches, pitas, omelettes, toasties, burgers, chips, milkshakes, and ice creams here along with a nice glass of red or white wine.
Address: Lighthouse beach Kato Paphos, Paphos District
Tel.: +357 99 683 992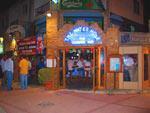 The Waterhole Music Bar
When you want to shoo away the boredom and have a great time, then visit The Waterhole Music Bar. Enjoy a good sip of fantastic cocktails available and benefit from service of the friendly staff. Right from ever popular cocktails to non-alcoholic drinks, snacks and ice creams, everything and anything is available here. Once you visit this place, pleasant memories will be forever etched on your mind for sure!
Address: 1, Nightlife Street, Kato Paphos, Paphos District
Tel.: +357 26 936 591
Alfie T's Bar ( Visit Page )
Local Cypriots perform at this bar every night, with music appealing to all groups of people be it the children, adults or the old. Music from the 70's, 80's to today's favourites is played here. One can also watch their preferred sporting events on the six large screens or just ask for the pool table to indulge in a good game of snooker.
Address: Tomb of the Kings Road, Paphos, Paphos District
Tel.: +357 26 221 314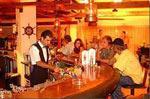 Kikkos Cocktail Bar
The Kikkos Cocktail Bar serves both local and international wines, beers, long and short drinks, cocktails liquors, hot & cold beverages and that too at reasonable prices. The bar has a big screen where you can watch shows, major sports events. There is also a mini golf arena and equally important, a small amusement park for children.
Address: Georgia Court, 24/25 Coral Bay, Paphos
Tel.: +357 26 622 051
Kleos Cocktail Bar ( Visit Page )
A cocktail bar highly suggested by tourists. It is a place for a complete relaxation, where you can unwind comfortably. Enjoy the Cypriot warm hospitality together with exotic cocktails, and excellent drinks. Make your evening special in soothing surroundings and background music of the bar.
Address: Coral Bay, Paphos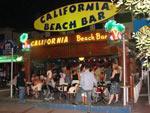 California Beach Bar
A brilliant and lively bar with a live DJ who plays an amazing music every night. California Beach Bar is one the most chosen places to chill out and relax. It's not only a pub, but also hosts beach parties and promo nights. For the adventurous ones, do try the Fishbowl Cocktail for sure.
Address: Kato Paphos, Paphos
Tel.: +357 99 435 287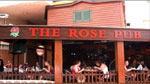 Pubs
The Rose Pub ( Visit Page )
The Rose Pub is a place slowly emerging as a popular destination among tourists. A friendly and warm atmosphere welcomes you the moment you step in the pub. The place offers a wide variety of snacks for brunch, lunch and dinner along with a heady combination of beers and cocktails. Live music is played contributed by in house DJ who plays anything from pop, rock to all time favourites.
Address: Alkiminis 28, Kato Paphos, Paphos District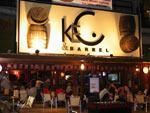 Keg & Barrel Pub ( Visit Page )
Located ideally at the beginning of the Ayiou Antoniou Street facing the Almyra Hotel, this comfy and welcoming pub is famous for its large variety of beers and exotic cocktails. The bar is also a sponsor of the Paphos Tigers, Cyprus's first Rugby team. Once you enter the pub, you will be greeted by live music, pub games, internet facilities and big plasma screens showing the latest sports.
Address: Agiou Antoniou Street, Kato Paphos, Paphos District
Tel.: +357 99 408 367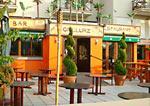 Blazing Saddles Pub
An American style pub and bar, this is one of the biggest pubs in the Coral Bay area. The pub includes T.V. screens to watch sports events and 3 pool tables to keep you entertained. Strong heady cocktails here at the pub are served by the nice and friendly staff.
Address: Coral Star 25, Coral Bay, Paphos
Tel.: +357 26 622 466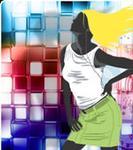 Clubs
Barrio del mar
Barrio del mar is not only one of Paphos summer clubs that opened in 1996. It is also one of the most crowded ones. If you are in the mood to party till eternity with blaring music filling up the atmosphere, then this is the place to be. Situated just a stone's throw from the Yeroskipou Beach, it is one of the largest clubs in Paphos boasting of 6 bars and 2000 people seating capacity. All kinds of music are played here like R&B, House, latest hits, etc. Theme parties, birthday parties, bachelor's nights can also be arranged here with prior reservations.
Address: Yeroskipou Beach, Yeroskipou, Paphos, Paphos District
Tel.: +357 99 632 229, +357 99 673961, +357 99 577665
Dodici
This is a hotspot for full entertainment in the night as it turns out into a party central, which is friendly lounge bar in the evening. With two large bars, chill-out areas and private lounges, it's an ultimate destination for those who are 21 years and above.
Address: Poseidonos, next to Aliathon Hotel, Kato Paphos
Tel.: +357 77 778 83
Robin Hood ( Visit Page )
Robin Hood has always been a very popular among tourists as it is located right in the centre of the Nightlife Street. The look of the place resembles that of a medieval castle and the atmosphere is comfortable enough to spend your evening in a nice and fun way. Different types of music are played here each night suiting everybody's music taste.
Address: Nightlife Street, Paphos
Tel.: +357 26 932 521